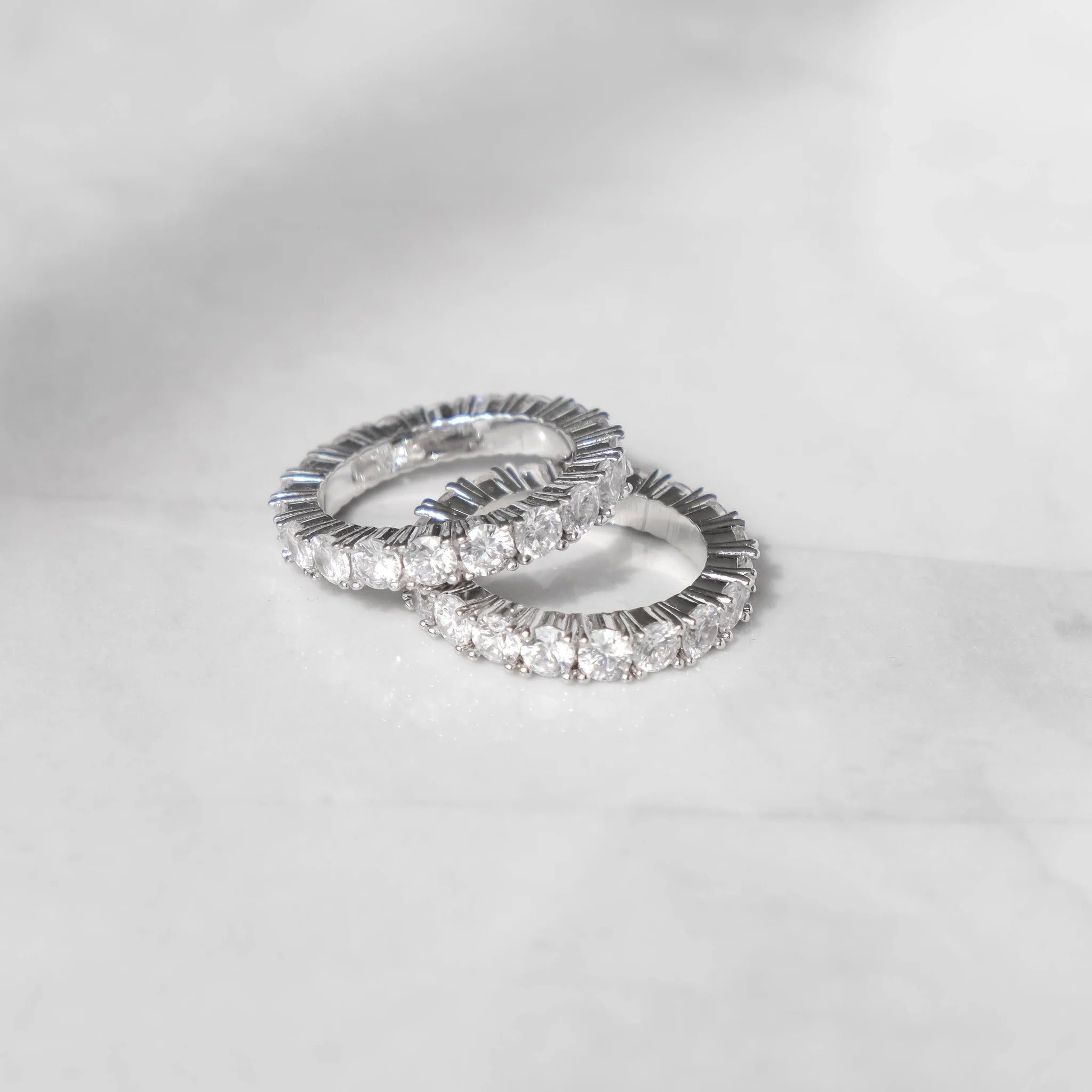 Eternity Ring - White Gold
Make a statement with the Eternity Ring. This 3mm men's ring is completely iced out with round-cut, lab-simulated diamonds handset into a classic silver band. This collection is all about leveling up.
Stores in our industry mark up their products 8-10 times the actual cost. We do things differently. To bring luxury within reach, NORTH products are exclusively at www. icefromnorth.no . This allows us to skip the retail markup and pass the savings directly to you.
690 kr
Tradisjonelle Gullsmed
1550 kr

Laboratorium Skapte Diamantstener
NORTHS's laboratoriumssimulerte diamantstener er et luksuriøst og mer rimelig valg for våre innstikkede smykker. Vi tilbyr både klare og fargede stener for allsidighet.
Rhodium Finish
Laget med en nikkelfri kobber- og sinklegering og ferdigstilt i rhodium, noe som gir den et strålende utseende og holdbarhet som hvitt gull. Rhodium er et sjeldent og verdifullt edelmetall som er valgt for sin glans, styrke og sjeldenhet.
Eternity Ring - White Gold
MAINTENANCE & WARRANTY
How do I care for my jewellery?
Maintenance
Gently rub the surface with the jewelry cloth that came with your order. Never wash the jewelry cloth, as it will lose its effectiveness, and keep it away from children!
Storage
Always store your jewelry in a dry environment, such as the jewelry box that came with your order.
Do you have a warranty?
We have your back with a 2-year warranty from the date of purchase. Should quality problems arise with your jewellery, we will take responsibility and sort it out for you. We are confident in the product's quality, hence the 2-year cover. Our jewelery is handcrafted to last. It also means that the guarantee does not cover normal wear and tear, lost items, incorrect use, incorrect storage, or changes made by third parties.
SHIPPING & RETURNS
Free Shipping and Express Delivery.
We offer free shipping on all orders through our delivery partner Postnord.
• Average delivery time 3-5 working days.
• You can find your estimated delivery time in the checkout.
• Free express shipping available from NOK 2,000 (1-3 working days)
30 Day Return and Exchange
We have a very simple return and exchange process.
Returns are accepted for all our physical products if they are returned within 30 days from the date of purchase. If you wish to exchange a product, you have an exchange period of 30 days from the date of purchase.
What are your payment options?
We accept all types of cards, whether it's Visa or Mastercard . We also accept payments via Apple Pay . In addition, you can pay later or in installments with Klarna .
GET TO KNOW ICE FROM NORTH
GET INSPIRED
Tag us @icefromnorth to be featured.
OVER 3,000+ 5-STJERNERS ANMELDELSER
FAQ
What is included?
Your Jewelry.
North Jewelry box.
Jewelry cloth.
Material certificate and a 2-year warranty.
What is the difference between their gold bound chains and gold plated?
Our NORTH products are made from the finest and most durable precious metals, from solid gold to sterling silver. Our gold-bound chains are made by encasing a chain of 925 sterling silver or stainless steel with an amount of solid gold that is 3-5 times more than ordinary gold plating. This first-class process is carefully carried out by skilled jewelers in Italy.
Most out there offer cheap gold plated chains with a thin layer of gold painted over the steel, while we go way beyond the standard to ensure quality and durability.
How do I find my size?
On the product page, you will find a size guide just above the "Add to basket" button for all our products.
What if I am not satisfied with my purchase?
We'll give you your money back!

Yes, all our jewelery comes with a 100% satisfaction guarantee. If it's within our return period and the piece doesn't suit you, send it back and we'll give you a full refund.
Can I buy North jewelery on other sites?
As is often said, imitation is the sincerest form of praise. However, not all imitations are worth your time or money. Genuine NORTH jewelery can only be bought directly from our official website, www.icefromnorth.no . By selling directly to you, we ensure both the authenticity of each piece of jewelery and the most competitive prices by eliminating intermediaries.
Unfortunately, we have discovered copycat websites that falsely claim to sell our products, often using our own photos and videos. Be aware of such scam websites. Things to look for include:
Price differences: Low prices may indicate that the product is of lower quality.
Long delivery times: This can be a sign of dropshipping, where products are often shipped from places like China with long wait times.
Unclear return conditions: Difficult return processes, especially to international addresses, can be both expensive and risky.
To ensure quality, authenticity and a first-class customer experience, we always recommend shopping directly from our official website.